Editor: Scandinavian Journal of Public Administration
Per Nikolaj Bukh er i juli 2023 udpeget som redaktør for det forskningsbaserede tidsskrift Scandinavian Journal of Public Administration

Skrevet den 07.07.2023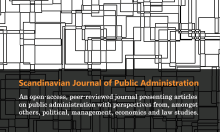 Scandinavian Journal of Public Administration (SJPA) is an open access, peer-reviewed journal that publishes four issues per year, presenting articles on public administration with perspectives from political and management studies to economics and law studies.
Scandinavian Journal of Public Administration:
Welcomes interdisciplinary and innovative articles that highlight relevant and contemporary problems in public administration;
Targets scholars as well as practitioners with an interest in public administration at the European, national, regional or local level;
Encourages pioneering research in order to improve the understanding and deepen the knowledge of the public administration practice in Scandinavia and elsewhere;
Strengthens public administration networks in theoretical as well as practical knowledge;
Encourages pluralistic methodological approaches.
All articles are subject to a double-blind peer review process. Our aim is to give a first decision (i.e. Accept submission, Revision required, Resubmit for Review or Decline submission) within three months of receiving a manuscript. SJPA provides immediate open access to its content on the principle of making research freely available to the public and supporting a greater global exchange of knowledge. SJPA does not charge any publication fees.
SJPA is indexed in Scopus and is ranked in the Norwegian Register for Scientific Journals, Series and Publishers (NSD, 1)